New Year's Eve DinnerKrimi
A murderously good dinner.
Buy your tickets at Starticket
The Swiss gastronomy and theatre fun
A delicious meal for the palate, a funny murder mystery for the mind. DinnerKrimi is the fun combination of event gastronomy and interactive theatre. Enjoy culinary highlights and help to solve an exciting, fast-paced and funny crime story. DinnerKrimi is the theatre and gastronomic experience that will make your evening truly unforgettable.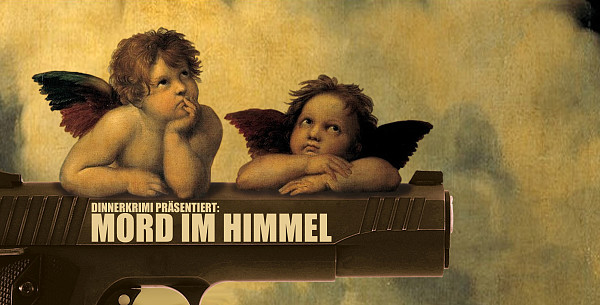 "Murder in Heaven" - Who will go to paradise?
In the waiting room in front of the pearly gates, it is decided who will go to paradise and who will not. For centuries, the procedure has been nothing more than a formality. But when a mysterious murder suddenly startles those waiting, it is clear that someone is definitely not getting in. And so suddenly all hell breaks loose in heaven. Help to unmask the culprit and find out during culinary highlights whether you yourself have to go up or down ...
Facts
Date/Place

New Year's Eve, 31 December 2023

In the festival room on the first floor of Marina Lachen

Time

The event starts at 6:30 pm and ends after midnight

Language

Performance in Swiss dialect

Preis

The ticket price of CHF 260.90 per person includes: Theater, apéritif with appetizers, 5-course menu, mineral water, coffee/tea, midnight champagne, fireworks at 00:30 and service fee for online tickets

Menü

Tartar of Yellow Fin Tuna with marinated rice, served with avocado cream, quail egg and ponzu sauce
***
Parsnip soup with chive oil, bread crisps and herb salad
***
Marinated black tiger prawns with red Thai curry sauce and braised pak choi
***
Beef duet on a carrot triology with celery and pear purée
***
Black Forest cherry cake "Marina Style", served with chocolate sponge, mascarpone cream and spiced cherries on cassis gel and apple blossom

Menü vegetarisch

Salad of baked spiced pumpkin with duxelle and Parmesan cheese
***
Parsnip soup with chive oil, bread crisps and herb salad bouquet
***
Crispy tofu with braised pak choi and red Thai curry sauce
***
Beetroot risotto with feta, served with glazed navettes, pomegranate seeds and pickled red onion
***
Black Forest cherry cake "Marina Style", served with chocolate sponge, mascarpone cream and spiced cherries on cassis gel and apple blossom

Allgemeine Informationen

You can find more information about "DinnerKrimi" on the official website: www.krimi.ch