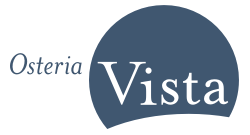 Osteria Vista – The loveliest Italian on Lake Zurich
Italian cuisine and pizza from the wood-fired oven.
Osteria Vista, the centrepiece of Marina Lachen, is located at the heart of the harbour promenade. Fresh wood-fired oven pizzas are our speciality. Fine pasta, meat and fish dishes complete the attractive menu, which is dedicated to the theme of "Bella Italia". The warmly designed interior, open kitchen, wide-ranging view and relaxed atmosphere enchant guests from near and far. The Osteria is your local venue for every day and any occasion. Buon appetito!
Osteria Vista menu (PDF) Osteria Vista beverage list (German, PDF)

Opening hours Osteria Vista
Monday–Friday: 11.30 a.m. to 1.30 p.m. and 6 p.m. to 11 p.m.
Saturday–Sunday: 11.30 a.m. to 11 p.m.
Opening hours public holidays
Ascension Day, 26 May: 11.30 a.m. to 11 p.m.
Whit Monday, 6 June: 11.30 a.m. to 11 p.m.
Corpus Christi, 16 June: 11.30 a.m. to 11 p.m.