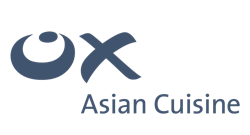 The small Asian oasis of wellbeing
Freshly prepared Thai dishes.
In the enacted urban setting of this Asian restaurant, our Thai chefs prepare popular and authentic dishes from their homeland. Wanderlust is therefore also a theme here, and it fits perfectly with the overall experience of Marina Lachen. It is a little like being on holiday.
OX Asian Cuisine Menue (PDF) OX Asian Cuisine wine list (PDF)
OX Asian Cuisine opening hours
Tuesday–Friday
11.30 a.m. to 2 p.m. and 6 p.m. to 11 p.m.
Saturday
6 p.m. to 11 p.m.
Sundays and Mondays
closed

During the company holidays of the Osteria Vista
and The Steakhouse is the OX Asian Cuisine also
opened on Mondays.

► 30 September / 7 October / 14 October / 21 October

11.30 a.m. to 2 p.m. and 6 p.m. to 11 p.m.
Company holidays OX Asian Cuisine
The restaurant will be closed from Sunday 22 December 2019 to Monday 13 January 2020.
During this time we welcome you at the Osteria Vista and the The Steakhouse (also with different company holidays).
On 1st January 2020 all restaurants in the Marina Lachen will be closed.